The popularity of trampoline parks has grown significantly in recent years. They represent a new and interesting way of recreation and quality leisure time. Due to the growing interest, the number of parks around the world has also increased significantly. Successful are, of course, those parks that offer the visitor an interesting and unique experience. We present you with a selection of 10 top trampoline parks around the world!
Trampoline parks - fun and recreation for everyone
Trampoline parks have become a very popular form of entertainment around the world in recent years, therefore they represent a great business opportunities. Here is a list of 10 top parks worth visiting. The parks are listed in random order and each of them offers its own unique experience that inspires new and new visitors day by day.
1. Abenteuerland Trampoline Park
Abenteuerland trampoline park is located in Bispingen, Germany.
With its opening in 2019, it is the most modern trampoline park in Germany.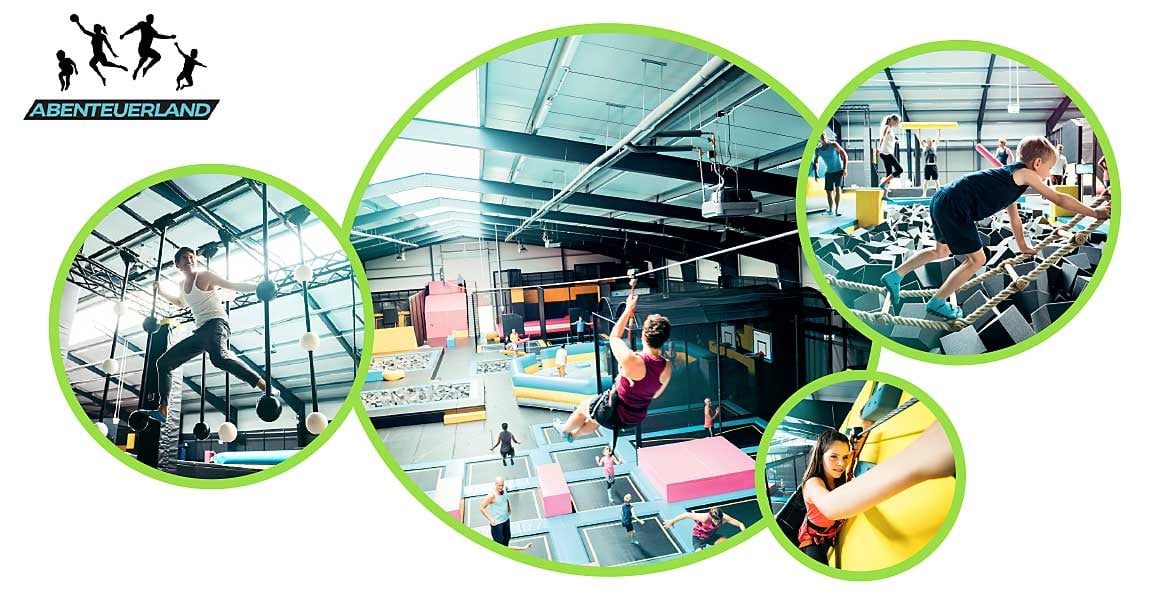 Abenteuerland trampoline park stretches on 1.460 square meters and offers a very wide range of attractions and modules.
Visitors can climb new heights on a big climbing wall or on the high rope course, test skills on the ninja course, or play in the toddler area - so it's a truly the experience for the whole family.
You can also find and try:
High-Performance Trampolines,

Augmented Climbing Wall

(interactive climbing wall),

Balance Area (with Battle Beam, Slack Line, and Climbing Ladder),

Ropes Course,

Slam Dunk,

Big Climbing Wall & Big Airbag,

Ninja Parcours,

Trapeze swing and




The Wall or Twisted Bouncy World.



Trampoline park visitors are offered both classic and digitally equipped trampoline modules. The last one particularly impresses younger visitors, as they can compete with their peers, play fun games and set new records.
In order to maximize visitor capacity, and to further optimize the use of the park, the side walls and the ceiling were incorporated into the design. A Rope course and a Rope slide have also been installed. The park can take up to 150 visitors per hour.
You can visit Abenteuerland Trampoline Park here.
2. Helium Trampoline Park
Helium Park is located in New Berlin, Wisconsin, United States, and has become a go-to entertainment space in the greater Milwaukee area.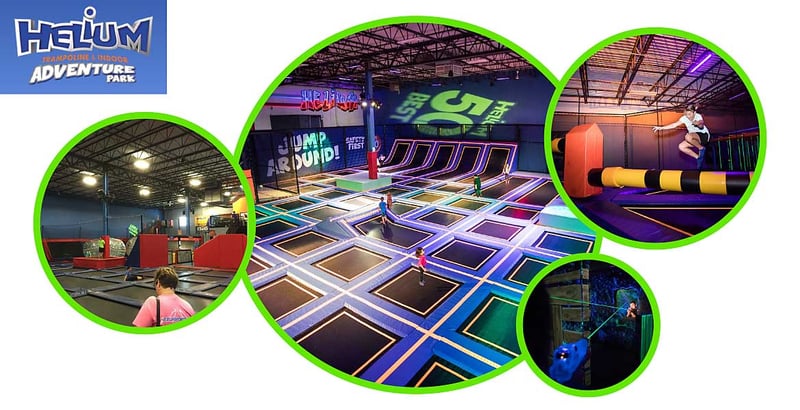 The 2.322 square meters park includes 130 interconnected trampolines; 2,000 square feet designated for two dodgeball courts, a 750-square-foot foam pit, a rock-climbing wall, and a pizza & concession area.
Visitors can try their hand at basketball, and the dodgeball game, which involves a clash between two groups, is also very popular. In Helium Park, this game has been taken to a new level, as it also enables "Glow in the Dark" performance. Ninja track, laser tag, zorbing, and bungee jumping are also very popular.
You can also find and try:
a new trampoline system with better bounce,

more curves,

tumbling and special surprises,

a new state-of-the-art Warrior Course plus 3 levels of Warped Wall,

Ultimate Dodgeball,

Slam Dunk Basketball,

the Gladiator Joust Beam,

Walk The Plank Jump Tower,

Hurricane simulator, with speeds up to 125km/h,

Big Air Bag

and

Tiny Tot court.
An extremely popular module is also the ninja warrior track. If visitors may be afraid of heights, they can overcome this fear on a tall tower from which they can jump into a huge and soft inflatable cushion.
You can visit Helium Trampoline Park here.
3. Maxx Arena Trampoline Park
Maxx Arena is located in Munich, Germany.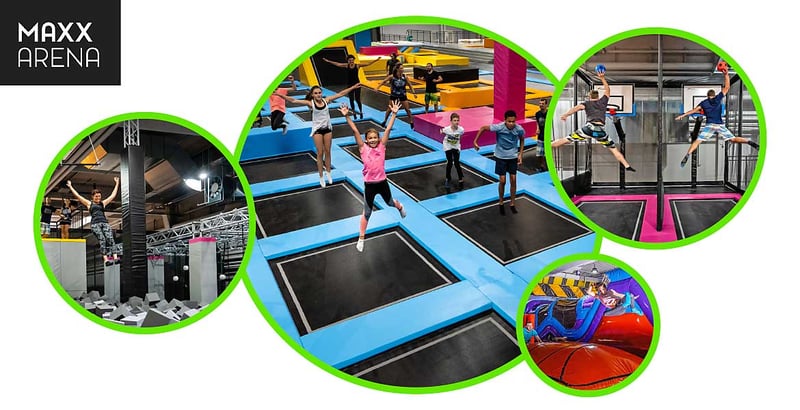 With 5.500 square meters, it is one of the largest parks in Europe. It is known as a very nice and colorful trampoline park with many different attractions. Besides standard ones, you can try your abilities on waterfall trampolines, reach airbags with challenging climbing over the ramp instead of using stairs, and many more.
The park is divided into five main parts:
trampolines,
inflatable pillows,
climbing,
3D golf and
a maze of lasers.
Each piece offers a fun and unique experience. In the brightly colored climbing area, you can find 16 adventurous climbing stations with different requirements, shapes and techniques. From "Spaghetti Junction" to 'Big Cheese', from 'Vertical Drop Slide' attraction to 'Stairway to Heaven'.
They offer more than 50 trampolines and many different modules such as high-performance trampolines, wall trampolines, dodgeball games, basketball, slackline, parkour, trapeze, ninja warrior track, basketball, and much more (MaxxArena, 2020).
Visitors also have access to 3D golf courses illuminated with UV light. Visitors can just as well encounter the (trampoline-based) underwater world, the ice age, mythical creatures, the universe, and superheroes.
You can visit Maxx Arena Trampoline Park here.
4. Get Air Trampoline Parks
Get Air Indoor Trampoline Parks is a trampoline parks franchise, that has a bunch of locations across the globe, just waiting to be discovered.
Their parks are located in more than 50 cities in the United States, at four locations in Canada, in Brussels, and even at two locations in Japan.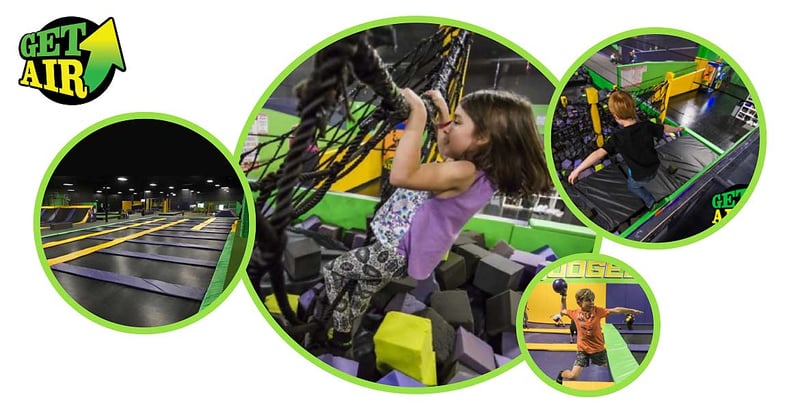 All locations operate under one umbrella name - Get Air. Get Air trampoline parks are available in as many as 77 countries and are at least 1000 square meters in size. The peculiarity of this entertainment chain is, that all of the trampoline parks are remarkably similar, if not identical, between locations. We can find the same attractions in all the parks.
Get Air Parks to offer various modules such as ninja tracks, slackline, fidget ladder, dodgeball game, and basketball. The youngest are cared for (the entire park is open to little kids - under 46″ and their parents), while they also offer a dedicated time just for jumpers with special needs.
You can find the locations of Get Air Trampoline Parks here.
5. Trixs Leiderdrop Trampoline Park
Trixs Leiderdrop Trampoline Park is located in Leiderdrop, the Netherlands.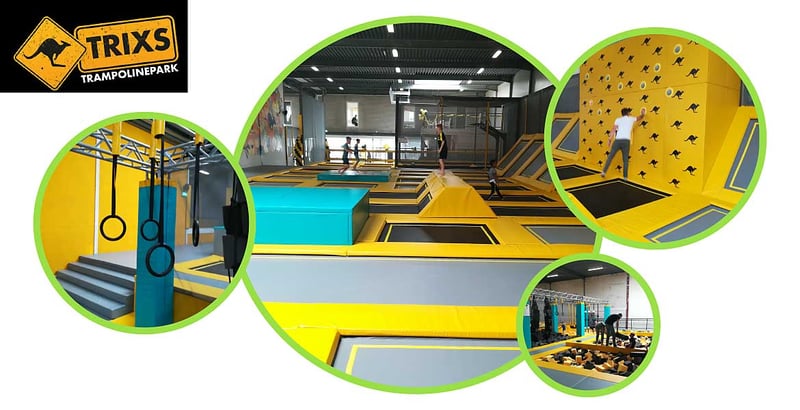 With 1.330 square meters, this very bright and nice trampoline park is the go-to jumping location in the Netherlands.
The whole trampoline park is dressed in a warm yellow color.
The large and colorful toddler area attracts a lot of family visitors, while teenagers are training their skills on Hexia trampolines. The zone, which allows visitors to jump freely, is connected by as many as 40 trampolines, a 12-meter track, and a large air cushion, where visitors can safely practice their tricks.
You can also find special High-performance trampolines, which allow visitors to jump even higher and stronger. They also offer more traditional games and tracks that are already familiar to us from other trampoline parks. These are, for example, ninja tracks, games between two fires, and climbing.
However, they offer many other attractions. The park has an indoor beach that allows visitors to play football, tennis, volleyball, hockey, play frisbee or even play giant twister.
You can visit Trixs Leiderdrop Trampoline Park here.
6. Cyber ​​Jump Trampoline Park
Cyber Jump trampoline park is located in Budapest, Hungary.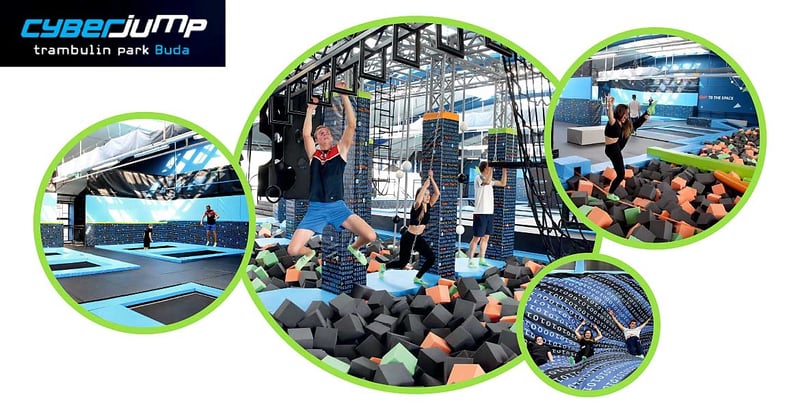 With an area of ​​more than 3.000 square meters and with a stock of 1,400 square meters this park is the largest Trampoline park in Budapest and one of the biggest in the whole of Europe.
Cyber ​​Jump is a trampoline theme park that offers users a rather immersive experience.
In addition to traditional jumping, they also allow games such as dodgeball and bossa ball (a game where two teams fight each other using elements of soccer, volleyball, and capoeira).
Extremely popular is the slackline, which thoroughly tests the balance of visitors. They also offer a ninja warrior zone, which is perfectly in line with the cyber theme that the park offers. This is divided into several routes, which differ in difficulty. You can also jump in a foam pool or in a Big BagJump (a large inflatable cushion) or challenge yourself by climbing an interactive wall.
You can visit Cyber Jump Trampoline Park here.
7. Free Fall Trampoline Park
Free Fall trampoline park is located in Pennsylvania, United States.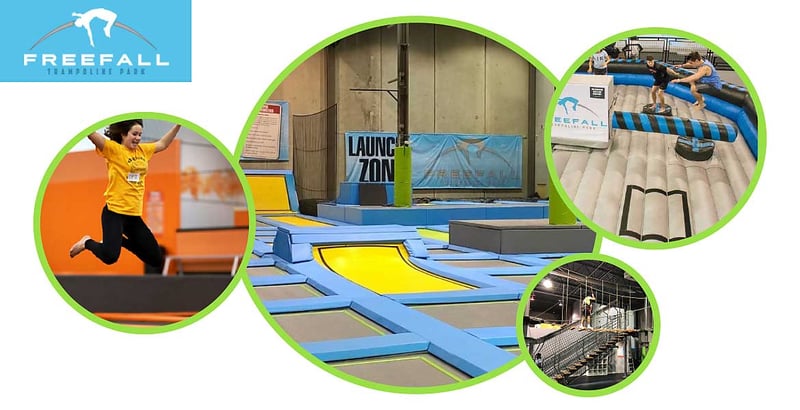 With 3.000 square meters, Freefall is one of the largest parks in the United States.
The park doesn't offer much of an interactive experience, and its modules cover classic jumping, rope tracks, trapeze tracks, airbags, and dodgeball.
Their main features are wall-to-wall trampolines including:
performance trampolines,

3 dunk hoops,

Mechanical Bull

an airbag,

dodgeball courts,

Ropes Course,

Extreme Air and

8-person battle game – Meltdown.
Meltdown is a game that tests the skill, endurance, and speed of reactions of eight participants. The game involves two rotating handles that want to tip the contestants out of the racks, the latter having to avoid the handles. The last standing is the winner!
Part of the park is intended exclusively for children under 6 years of age. The park also offers birthday celebrations, sports days, team building, evening parties for friends and families, and special events for people with special needs.
You can visit Free Fall Trampoline Park here.
8. Hop Arena Trampoline Center
Free Fall trampoline park is located in Prague, Czech Republic.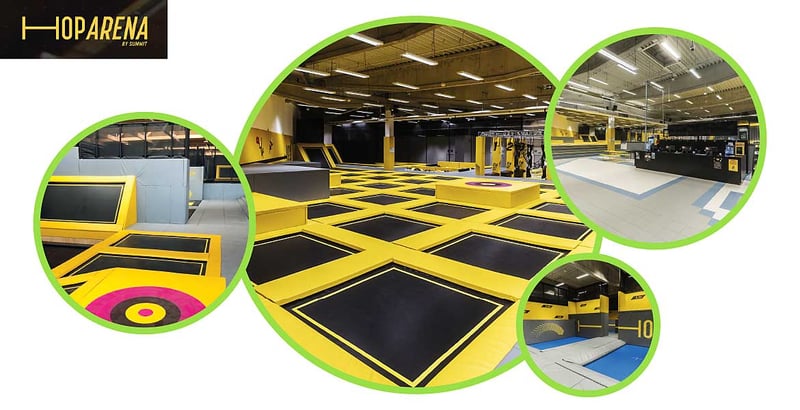 Hop Arena is the largest trampoline park in the Czech Republic and is a good example of branded high-performance trampoline area. It stretches a little over 2.700 square meters including 53 trampolines and 12 attractions.
It offers visitors a comprehensive experience associated with a holistic design.
You can test your courage and your physical abilities on attractions like Ninja Warrior or try to play Basketball on the trampolines you will fly like the legendary Michael Jordan.
Among other attractions you can also find:
a shuffled game,
dodgeball,
a trampoline zone,
a ninja warrior track,
a toddler zone designed for children up to 5 years old.
They also organize corporate parties, birthday parties, or team buildings.
You can visit Hop Arena Trampoline Center here.
9. AirMaxx Trampoline Park
The AirMaxx trampoline park is located in two locations in the United States, Minessota:
the city of St. Cloud and
the city of Eden Prairie.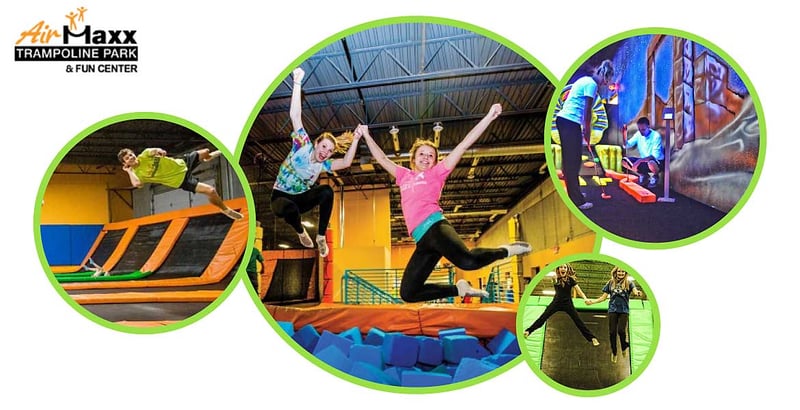 Both parks have more than 1.000 square meters designated for the jumping area.
In addition to the more traditional elements, they also offer a space where visitors can play laser tag and also a space where they offer traditional American digital games Arcade.
In Eden Prairie, you can also zap friends in a laser tag arena, escape the Pharaoh's curse in the cosmic mini golf course, or have a blast in a huge arcade that features mini bowling and an exciting laser maze.
In St. Cloud, guests can conquer obstacles in a Ninja Warrior Course, play dodge ball or practice gravity-defying dunks on trampolines, and younger ones can enjoy the Kids Town Indoor Playground.
With a wide range of attractions, they attract those who are more eager for sports, games, and jumping, as well as those who prefer leisurely entertainment. They are also prepared for thrill-seekers with the ninja lines, inflatable pillows, trapeze, and other adrenaline attractions.
You can visit Air Maxx Trampoline Park page here.
10. Urban Jump Trampoline Park
Urban Jump trampoline park is located in Paris, France.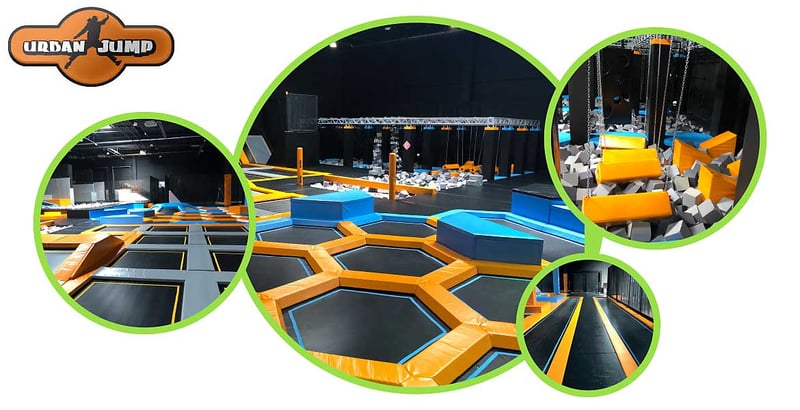 This exciting trampoline park stretches on 1.265 square meters and is one of the most popular trampoline parks in France.
It offers its visitors many activities and modules such as an attractive Hexia court and HP trampoline area. Visitors can perform tricks and jump over a large trampoline field that also contains vertical trampolines or they can jump into large foam pools.
It is possible to practice acrobatic jumps or play dodgeball and slamdunk, participate in fitness classes or even organize birthdays, private parties, or professional outings such as team-building - all on the trampolines.
You can visit Urban Jump trampoline park here.
Bonus: Amazinga Trampoline Park
Amazinga trampoline park is located in Zagreb, Croatia.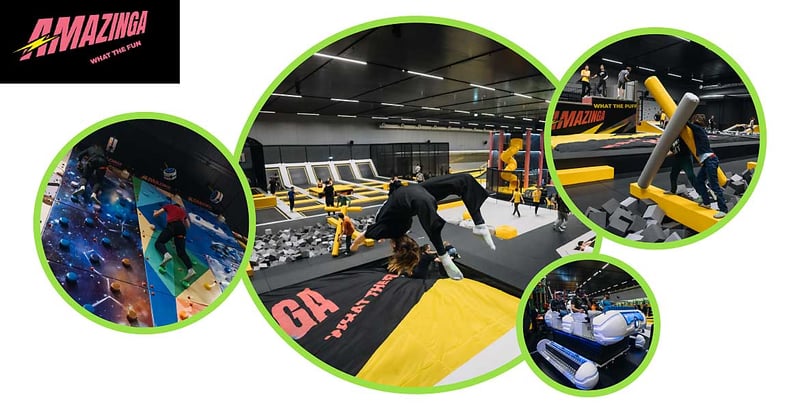 Amazinga is one of the most modern trampoline parks in Europe, opened in 2020. It has more than 12 attractions spreading over 1.890 square meters. It is the first trampoline park in Croatia, which a maximum capacity is 190 visitors per hour.
Apart from visitors being able to jump on a classic trampoline, there is a trampoline to play football on, a basketball dunk trampoline, a battle arena, and a wipe-out arena where young and old can have fun. The attractions also include activities such as rock climbing, karting, VR, and laser tag.
In addition to the attractions located in the trampoline parks mentioned above, there are some new features:
Rotating beam on trampolines,
Football pitch,
Hexagonal multistory Toddler Ninja.
Rooms for birthdays and various other celebrations have also been arranged in the Amazinga's area. They are intended for both children and adults.
---
Today, many trampoline parks are built around the world. Most of them are very similar to each other. Successful are those who offer visitors a different, fresh experience. The vast majority of them offer alternative activities such as dodgeball, basketball, ninja course, or even various events and fitness courses. The trend is to expand the offer to interactive and even culinary experiences.

It is certain, however, that trampoline parks will be even more popular in the future.
Trampoline parks are getting extremely popular, and to attract more visitors, you must be innovative! We prepared research about the 5 successful Trampoline parks that found how to be special for their customers. Download it for FREE >>>