Before buying a trampoline, you should consider a number of factors. One of them is the method of installation, where you have to decide whether to opt for an in-ground or above-ground trampoline. We have put together some facts for you to make your choice easier.
01. How much space do you have in the garden?
You need to think about the space and the kind of ground where will the trampoline be installed? If your garden has flat ground, enough grassy space and no trees to obstruct use of the trampoline, you're more likely to choose an above-ground trampoline. That said, you should be careful: we don't recommend that you place the trampoline on concrete, asphalt or paved surfaces.
If the ground is not flat, you're much better off with an in-ground trampoline. This is also the favoured choice for smaller gardens, as an above-ground trampoline can make the garden look a little cramped.
02. What look do you want for your garden?
At first glance, in-ground trampolines have a more sophisticated look. It's not just that they're more attractive, they're also unobtrusive – which is why they are more often than not the first choice for those with a more modern house who don't want an above-ground trampoline to obstruct the view. Because the jumping mat is at ground level, the view across the garden is a lot more attractive.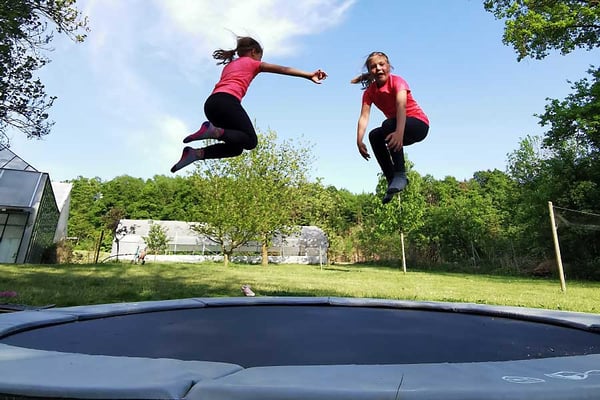 In-ground trampoline
03. How much effort are you willing to put into installing the trampoline?
You'll need just an hour or two to set up an above-ground trampoline. If you're the impatient type and want the trampoline to be available for use immediately, the above-ground variety is definitely a better choice.
An in-ground trampoline requires slightly more time and effort to install, as you'll have to dig a hole and sort out drainage and a weed barrier. If you've opted for a smaller trampoline, you can do the necessary excavation work by hand, but for larger dimensions, we recommend machinery.
Before you opt for an in-ground trampoline, think about the terrain of your garden. If it's stony or rocky, you'll need a lot more time to complete the digging work (and the costs are considerably higher too).
04. How much bounce do you want with your trampoline?
If you're choosing between an above-ground and in-ground trampoline in the same segment, the bounce will be identical. As far as bounce goes, the jumping mat is a much more important factor than the method of installation – and should be of the highest quality regardless of trampoline type.
05. Getting on and off the trampoline
One of the advantages of an in-ground over an above-ground trampoline is the ease with which you can get on and off the jumping mat. While above-ground trampolines come with a ladder, they are slightly more difficult to access. Being at ground level, in-ground trampolines don't have this problem.
This makes the in ground variety more practical for children and disabled people, which is why manufacturers recommend them especially for families with small children and children with special needs.
06. What are the safety issues?
Both above-ground and in-ground trampolines are completely safe these days – even more so if you choose to buy from a trusted manufacturer that uses only high-quality, certified materials.
Although some people are doubtful about the safety of above-ground trampolines, they do come equipped these days with four, six or even eight legs, offering even greater stability. If you're one of those sceptical parents who are afraid that your child may fall through an above-ground trampoline's safety net, you're more likely to opt for the in-ground type.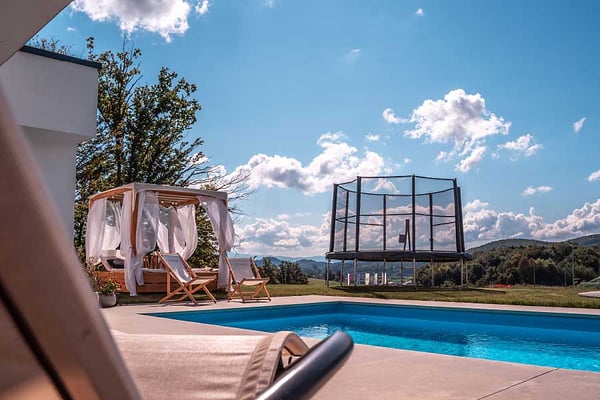 In-ground trampoline Akrobat
07. Choose a trampoline that matches your garden's terrain and your own requirements
Trampolines are well known for providing hours of unforgettable and safe family fun in the garden – and this is true of in-ground and above-ground types. Your final decision should be based on type of terrain and your own requirements. But you should never neglect quality, and should always buy from a trusted and certified manufacturer.
Check out Akrobat trampolines! They are synonym for lasting quality, unpaired performance and guaranteed safety. And they're so much fun! >>