Children are generally excited about sports activities, and their family environment has a major effect on whether the child will have a positive attitude towards sports. Many parents today are well aware of the importance of regular physical exercise for their children, and therefore it is not surprising that many children have at least one sport they love.
The coronavirus has reduced opportunities for recreation for everyone
The period of the coronavirus has unfortunately significantly reduced opportunities for participating in sports for everyone, not just children. One of the measures introduced to prevent the spread of coronavirus infections is the closing of fitness centers, public sports facilities and equipment, the suspension of organised sports training in associations and clubs, restriction of movement in public spaces, and of course the closing of all infrastructure intended for recreation (trampoline parks, pools, adrenaline parks).
All of this has led to a situation where the children are staying at home, locked inside four walls and full of surplus energy that they can't get rid of anywhere; at the same time, parents are worried about how to protect their children from infection while engaging in suitable physical activities.
Trampolines have a lot of advantages during the time of the coronavirus
Since there are significantly fewer opportunities to spend your free time in public, many families are looking for different ways to have fun and spend their leisure time. Many families have decided to purchase various sports equipment such as:
inflatable jumping castles,
trampolines,
inflatable pools

and

other equipment that they can easily set up in their garden or yard.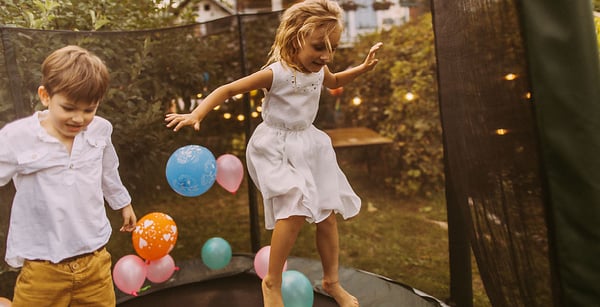 According to a research, sales of outdoor sports equipment have increased by more than 20% during the time of the coronavirus, so it is no surprise that trampoline sales have also increased, since they are a great way to spend your free time outdoors, and they have proved to be particularly appropriate during the time of the coronavirus.
Let's take a look, why are trampolines so popular:
1. Quick & easy set-up
Trampolines designed for home use can be set up quickly and easily, which allows you to have a great time in your own garden without exposing your children to the risk of infection in public spaces. By setting up a trampoline in your garden you avoid entering public spaces and ensure the necessary social distancing, which is very important in the fight against the coronavirus.
2. Effective way to burn extra energy
Children have huge amounts of energy, and the fact is that they need a lot of exercise. When they are stuck inside four walls they are full of energy that they have nowhere to release. This leads to unpleasant running around the flat, jumping on your furniture and a lot of other dangerous activities at home.
By setting up a trampoline in their home garden, parents not only provide an effective way to release all that pent-up energy, but they also provide a completely safe environment in which children can enjoy active recreation during their leisure time.
3. Improved children's physical fitness
Research has shown that the coronavirus period is also having an adverse effect on children's physical fitness, the level of which has fallen significantly during this time. By setting up a trampoline in their home garden, families can also provide for their children's health and at least maintaining their physical fitness.
Trampolining has been shown to provide the same effects as running, biking or playing football, and also positively affects the development of balance, coordination and strength.
4. Perfect activity for spending quality family time
The family is an important factor in the development of children's physical and psychosocial development, and therefore activities within the family circle are all the more important during the time of social distancing.
Therefore, trampolining is even more fun for children if they can do it under the watchful eyes of their parents, who can cheer them on and keep an eye on them right from their chaise longue in their home garden. Children and parents can connect more easily while trampolining than on long bike rides, where communication is sometimes difficult.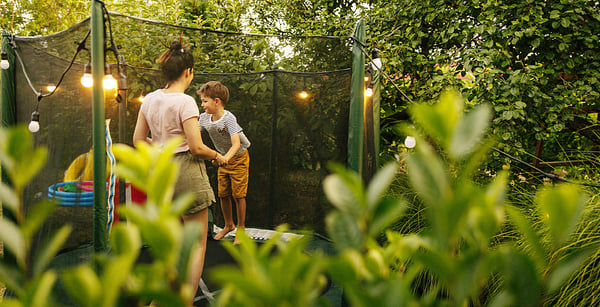 Though some people believe that trampolining is dangerous, injuries can be avoided through proper use of the equipment. Therefore there is nothing wrong with buying your children a trampoline, but it is important that you carefully explain the rules for jumping to them.
They will probably require some supervision at the beginning, so we recommend that you set up a trampolining schedule for when you will definitely be at home and able to supervise them.
---
We have found that during the time of the coronavirus trampolines are great fun for the entire family, but one should remember that the largest number of trampoline injuries occur on home trampolines. Therefore you have to be extremely careful when choosing a trampoline.
You can reduce the risk of injury only by choosing a high-quality trampoline, which can be purchased from a shop that specializes in this type of sports equipment; avoid buying toy trampolines that do not provide the necessary level of safety.
Check out Akrobat trampolines! They are synonym for lasting quality, unpaired performance and guaranteed safety. And they're so much fun! >>