If you are wondering how to start a new business that is both personally and commercially rewarding, then read the story of Stefan Fritsch, who after 25 years of full-time work decided to change his life and found the best way to start a new job with a trampoline park, which is continuing to perform well.
Starting a new career is usually difficult and it's that much easier if you decide to do so when you are young. But that doesn't mean that you should be deterred from pursuing your goals and business objectives, and that's why we're telling Stefan's story.
The story of Stefan Fritsch
Stefan has worked in various jobs in the automotive industry for many years, and in 2009 he made the best decision of his life. He and his wife Reka opened their first indoor sports park in Budapest, and then another in 2013. In 2015, they opened Laser Tag Arena, their third park. At the time, his wife was running parks, but Stefan was already starting to think about how to change his career path and start a whole new chapter in his life.
After thorough market research, he discovered that trampoline parks can be a great life and business opportunity. Finally, after 25 years of full-time employment in 2016, he left the automotive industry and became one hundred percent self-employed.
Almost all of the following year, he was looking for a reliable European partner with a two-layer trampoline net to avoid serious accidents when the net breaks. In 2017, he finally found Akrobat and opened his first trampoline park Cyberjump in Budapest.
So far Stefan has already opened his third trampoline park. But his business plans are far from over. Stefan is planning on building another 15 –20 trampoline parks in the next five years, and thereby further expanding his business.
Let's take a look at how to start a new job that could be extremely successful and commercially rewarding.
Trampoline parks are an excellent opportunity for starting a new career
Trampoline parks were still in their infancy in 2009 when Stefan saw a trampoline park for the first time. Then a trampoline park was just a big trampoline field.
In 2016 when he visited them again, he found that they could be a very interesting business model.
The main reason for this was that trampoline parks cater to a wide range of visitors, and selling one-hour tickets was much more profitable than leasing out indoor sports facilities.
Another reason why he liked trampoline parks in 2016 more than in 2009 was that the content of trampoline parks developed into a multi-game surface.
The Cyberjump trampoline park is the result of a courageous and well thought-out decision
Stefan Fritsch knew from the very beginning that he would have to approach his trampoline park business intelligently and start his new job with decisiveness, responsibility, and maximum engagement. Given the situation on the market, he decided to use his own capital to finance the project.
When Stefan decided to change his career path, his first step was to search for a reliable partner for his new enterprise. The most important thing was that it shouldn't be just an equipment supplier, but a business partner, who could give him advice and guide him through the entire project, and potentially work together on all his future projects.
The result of Stefan Fritsch's courageous decision is now an extremely successful trampoline park Cyberjump, which he opened in Budapest in 2017, and which is an excellent example of how to change your life in the best possible way.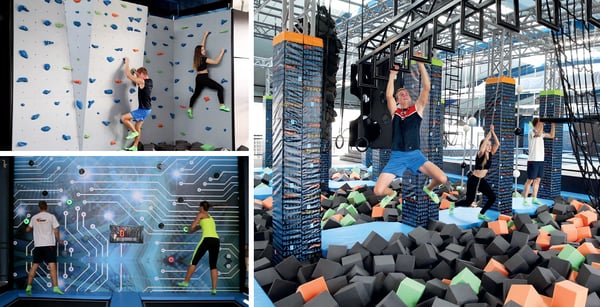 The Cyberjump trampoline park - an unforgettable experience for the visitors
The Cyberjump trampoline park is the largest trampoline park in Hungary and is located in the center of Budapest. The park is known for its outstanding cyber elements, and its range of additional attractions brings in both young people and many from slightly older age groups.
The trampoline park measures 3,000 m2, of which 1,400 m2 is dedicated to a wide range of trampolines and other visitor-inviting attractions.
Cyberjump offers its visitors numerous different types of attractions, including a ninja course and interactive games with laser and cyber elements. You can also choose traditional jumping on high-quality trampolines, jumping into a foam pit or an airbag, climbing on a climbing wall, or playing dodge ball.
Stefan Fritsch's best career change led to a trampoline park that contains numerous entertaining and fun modules, many of which contain cyber elements and various visual effects which attract large numbers of visitors.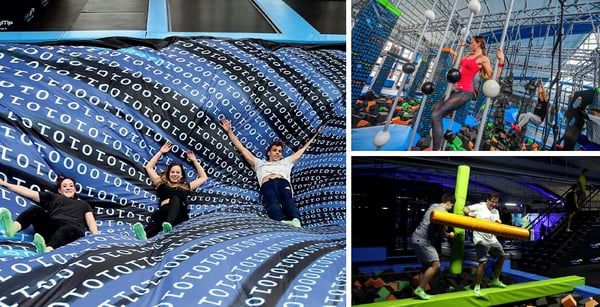 ---
Bear in mind that when Stefan opened his trampoline park, he had to completely change his life, as continually searching for business opportunities, upgrading, and improving the park demands maximum engagement and motivation. This was not a problem for Stefan, who succeeded in launching one of Europe's largest trampoline parks, which admits more than 150 visitors per hour.
By opening a trampoline park, Stefan Fritsch found out how to start a new career after 25 years of full-time employment, but he was well aware that he had to continually improve and update his business model.
Anyone who is thinking about starting a new career in the trampoline business should consider all of the angles carefully, with the help of a reliable partner.
Trampoline park can be a lucrative business idea. But on the other hand, a start of a new business can always be a challenge. Especially in the trampoline park business, which is very complex. What are the next steps?
Read the comprehensive guide on How to start a Trampoline park business.
---
Download the eBook in which you will find answers to all the questions in your journey from the idea to the opening and further operating of the trampoline park. >>>