More and more camps now offer additional services in their effort to provide their guests with not only accommodation, but also fun and relaxation. As guests are increasingly more interested in recreational activities, it's no surprise that a camp's additional services, such as trampolining, are attracting visitors.
Trampolines are the next must-have for every camp
Animation and additional services have become as important to guests as accommodation itself. Cleanliness, additional equipment, evening events, morning exercises, and additional animation are some of the categories that guests evaluate when rating a camp.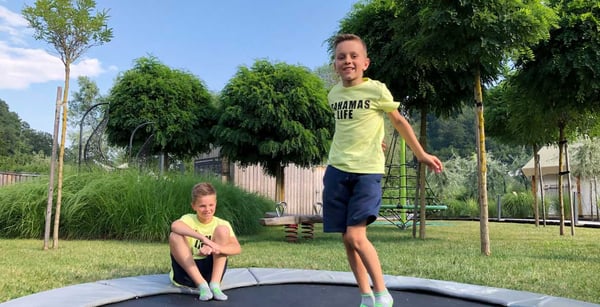 Trampolines are classified as sports equipment and have become an integral part of outdoor recreation areas. Trampolining is gaining popularity as it's both fun as well as beneficial to our bodies. Many camps have noticed this trend and already installed trampolines – and their guests are loving it.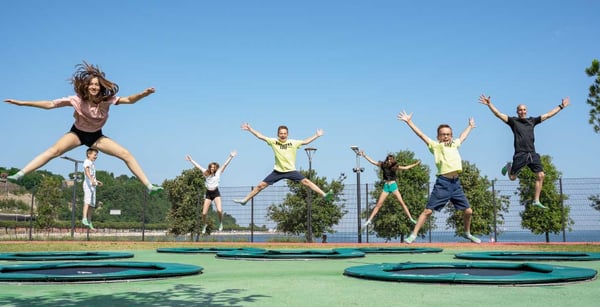 Trampolines for carefree camping holidays
When going on holidays, we all just want to have a great time that we'll happily reminisce about. This is especially important for parents with young children. Children have loads of energy, and they need an outlet, holidays or not. But on the other hand, their parents want to enjoy their holidays too; they want to relax and recharge their batteries.
For them, the answer is a place that offers plenty of animation activities for their children. And what's better than watching your child have fun jumping on a trampoline while you're relaxing in the shade? Trampolines provide great entertainment and relaxation, and children never get enough of it. They can jump on trampolines for hours and they'll still find the activity exciting and fun.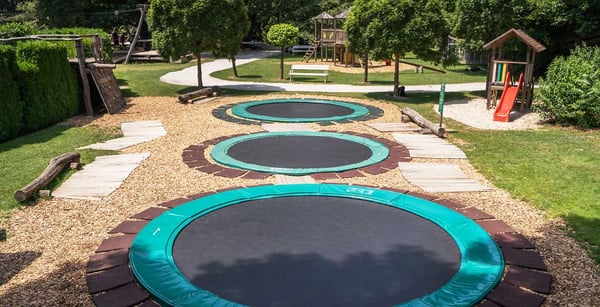 Trampolines are great for active people
People who enjoy camping generally like to spend their holidays actively in nature. Sleeping outside and being one with nature is a unique experience that cannot be compared to staying in an apartment or a hotel room. A trampoline in your camp is a wonderful opportunity for your guests; they're going to enjoy their active holidays even more in a relaxed and fun atmosphere.
Trampolining has many positive effects on our bodies, and active people value this tremendously.
They're not so interested in lounging around, so they're happy to participate in any kind of additional animation that your camp has to offer. If this is an energetic activity, which trampolining certainly is, they'll simply love it!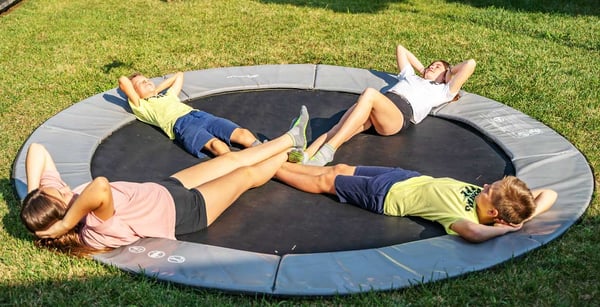 Install a trampoline in your camp in just a few steps
The first question that pops up when considering an addition to your camp is how much time the project is going to take, and how much construction and land development will be necessary. Any camp owner will be thrilled to learn that trampolines don't take up much space, and not much construction is necessary for their installation.
Unless you decide for an inground trampoline, no digging or special preparation, such as laying down concrete or asphalt, will be necessary. It's important that trampolines are installed on stable surface and in a good location that will attract your guests.
If you want to upgrade your camp and offer unique fun to your guests, a trampoline is your answer. You'll be able to offer your guests a safe and fun activity, and your guests will love your camp even more and certainly give it a five-star rating.
---
Check out Akrobat trampolines! They are synonym for lasting quality, unpaired performance and guaranteed safety. And they're so much fun! >>