The next step after having written a clear business plan is planning a trampoline park. This process is incredibly important if you want your business to be successful. You most likely have your own ideas for the design of your trampoline park, but at the same time you should make sure it meets all the standards and criteria. So when planning a trampoline park, the best solution is to have it custom-made.
Why decide for a custom-made trampoline park design?
Trampoline parks are no longer just a collection of trampolines. If you want your trampoline park to attract a crowd, you must think up a creative concept. Before you decide to launch a trampoline park in the entertainment industry market, you should pay particular attention to its design.
It is certainly welcome that you put forward your own ideas and suggestions, but the final design and trampoline park building should be done by experts. They will make sure to satisfy your needs while designing a durable, high-quality, attractive, and safe trampoline park.
There are many factors and regulations you might not even know about that must be considered when designing a trampoline park. On the other hand, you should keep in mind your potential competition, so planning a trampoline park that is custom-made is certainly the best call.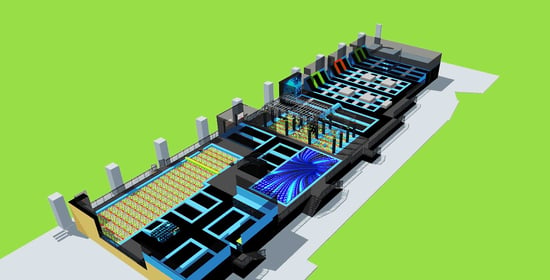 Basics to keep in mind when designing a trampoline park
When designing a trampoline park, its capacity is crucial. In Europe, the average size of a trampoline park is between 1,000 and 2,500 m2. The bigger the space, the higher the costs of building a trampoline park.
---
[It is recommended that a
trampoline park should cover
at least
1,500 m2
of space and that
the ceiling should be at least 7 metres high,
which is a good size if you want to entertain
a large number of visitors.]
---
Keep in mind
when designing a Trampoline park:
If you decide to build a smaller park, you need to pay even more attention to the creative concept and design of the park.

Regardless of its size, when building a trampoline park you should make sure that high-quality trampolines of various shapes and sizes cover at least 80% of the park's area. This will be the main source of your income and visitors' satisfaction, so it's important that your visitors have many trampolines to choose from.

To take the fun to the next level, you can also add climbing walls, basketball courts, different digital and interactive modules, and any other equipment you can think of.

Trampoline modules are also an important factor when choosing trampolines. This enables you to adapt to the needs and wishes of your visitors.

When planning a trampoline park, it's definitely a good idea to choose certified equipment that's manufactured in accordance with all the regulations and standards. Trampoline park manufacturers can provide you with the best quality and certified materials.

Don't forget to include additional infrastructure to your trampoline park plans, such as the reception, a coffee bar, dressing and changing rooms, an arena, and any other potential money-makers.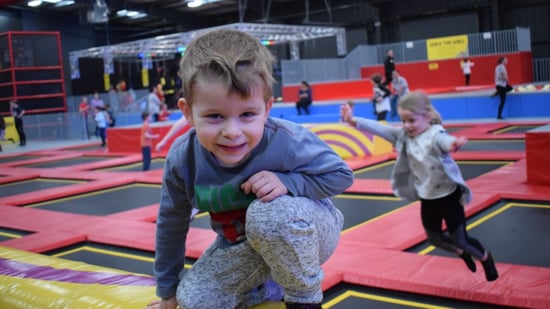 Find the right trampoline park manufacturer
There are many different trampoline park manufacturers available that differ in their offers. The question is, how to choose the right one?
---
[It would be best for you to
not only consider the price,
but also the bonus services your
chosen manufacturer can offer.]
---
The costs of building a trampoline park may end up being slightly higher, but you'll lose less sleep over the whole project.
To successfully launch a trampoline park in the entertainment industry market, you should choose a trampoline park manufacturer who offers you a full range of services, from the creative concept to planning and building a trampoline park.
The manufacturer you choose should give you their expert advice on location suitability as well as professional layout and architecture, and use only the best quality and certified materials.
When planning a trampoline park, you're not choosing an equipment manufacturer, but the best partner for building a trampoline park. This is the best recipe for a successful business, customer satisfaction, as well as unforgettable and safe fun.
---
Get our recent guide about the most popular Trampoline park modules. What kind of entertainment and exercise do they offer, and how can you combine different modules into a unique experience for your visitors? >>>>>