Trampoline parks are a great entertainment industry opportunity and a great investment. If you want your trampoline park business to be profitable, market research before opening one is a must. As with any other business, you should start with market research and define your competition, your target audience and the size of the market you want to cover.

Where to begin when doing a market research?
The entertainment industry business always adapts to current trends, and trampoline parks are no different. Before you start a trampoline park business, you should do market research to clearly define the following four questions:
1. Who your target customers are?
A great entertainment industry opportunity is Generation Alpha and their millennial parents, born in the age of smart phones, social media, and smart technology. They are the most frequent trampoline park visitors and represent the highest share of all jumpers.


---
[Most trampoline parks target visitors
are between ages 5 and 25 or 10 to 30.
Recent researches show that most commonly,
trampoline park visitors are in the
age groups of 6-10 or 11-15.
Keep in mind young families, too.]
---

2. Whats are the needs and habits of your target audience?
Before you decide to invest in the entertainment industry, for example in a trampoline park, you should determine the age group of your target audience as well as their interests. Some visitors will come to your trampoline park:
3. Who your competition in the trampoline park market is?
Trampoline park business is constantly growing, so the chances of you having some strong competition are quite high. But don't be afraid of the competition! It will make you better and more competitive. By learning as much as you can about your competition, you will find out their good and bad points. This will make it easier for you to make your own strategy. This means that you'll make fewer mistakes, and you'll be able to quickly fulfil your customers' expectations and generate trampoline park profit.
4. What profit can you expect?
If you want to reduce the risks and increase the chances of a quick return on investment and profit, you need to consider the financial aspect of running a trampoline park. Start by estimating your revenues and doing a thorough trampoline park business research in order to gain information about any potential additional sources of revenue. Keep in mind that it takes a few months before you start seeing a return on your initial investment and trampoline park profit.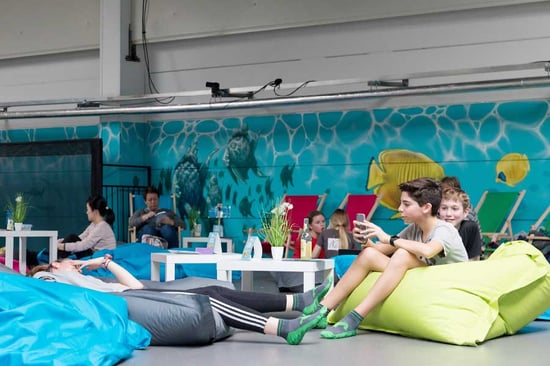 What are some downfalls and how to avoid them?
It's good to know the competition your trampoline park is up against. Keep in mind that the entertainment industry business is influenced by people's interests. Worrying too much about your competition could be your downfall. Think about the people you want to attract to your park and what their expectations are, based on your market research. Consider offering additional services, such as organising birthday parties, business events, and more.
It also couldn't hurt to know the newest trends in the trampoline park business. However, trampoline parks are a great entertainment industry opportunity only if you can tell the difference between a good trend and a passing one.
---
[If you decide to go on with
investing in the entertainment industry,
don't forget your mission and the
identity of your trampoline park.]
---
Trying to cater to everyone might be messy and can cause your trampoline park not to reach its target customers. So focus on a unique and unforgettable experience that will reflect your mission in the trampoline park market.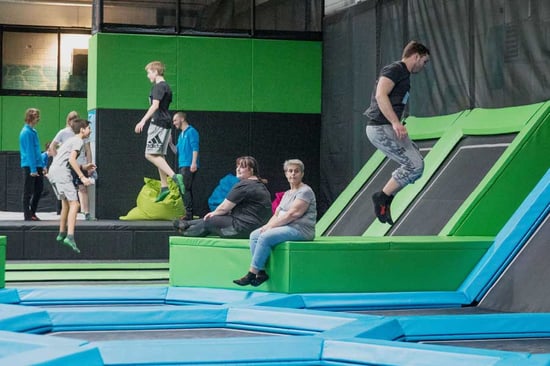 Why is market research so important?
One of the biggest advantages of a trampoline park business is being able to adapt to different needs, so knowing your target audience and their interests is crucial. Market research will give you a much-necessary insight into whether it is the right time and place to start a new trampoline park business.
It will also force you to be different from your competition, which is a recipe for success for your new trampoline park business and business in general. The trampoline park business is the best entertainment industry opportunity for many entrepreneurs as it gives a chance for a quick return on investment and profit.
Trampoline park can be a lucrative business idea. But on the other hand, a start of a new business can always be a challenge. Especially in the trampoline park business, which is very complex. What are the next steps?
Read the comprehensive guide on How to start a Trampoline park business.
---
Download this eBook in which you will find answers to all the questions in your journey from the idea to the opening and further operating of the trampoline park. >>>