Trampoline parks are a source of entertainment. However, in order to function successfully, they must adhere to certain standards regarding location, size, safety and construction. In this blog, we present how an old industrial facility can become a source of income via trampoline park.

If you've never been to a trampoline park and have no idea what it looks like, you'll be surprised to hear that the average size of a trampoline park is between 1,500 and 3,700 m2. The costs to launch a trampoline park differ, but the key factors are the trampoline park location and size.
Trampoline parks must follow certain size standards
The basic elements of any trampoline park are trampolines that make up one large jumping area and offer unforgettable fun with various types of attractions. Jumping courts can be of various shapes and sizes and include 40 or even more trampolines. There may be limitations when choosing a trampoline park location as it must be a large open space.
When building a trampoline park, international safety standards must be met and safety certificates obtained. A trampoline park location must meet minimal size requirements; only then is it possible to launch a trampoline park.
According to the International Association of Trampoline Parks (IATP), each trampoline park should meet the following size specifications:

the size of a building for an indoor trampoline park should be a minimum of 1,672.3 m2;
the minimal ceiling height in the trampoline park building must be at least 5.30 meters, in some places even more (depending on the type of construction of the building)The minimum space above the trampoline must be at least 4.30 meters and the frame of the trampoline must be at least 1 meter high;

trampoline courts should on average occupy 45-50 % of the total square footage of your building.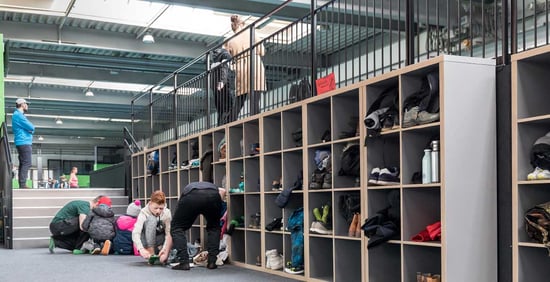 How to find a good lo

cation for

the best indoor trampoline park?
A good trampoline park location is of vital importance for the launch of a trampoline park. Initial investment costs and good business performance will depend on it. It is best to research the competition and find out whether there are already any trampoline parks nearby.
Competition can be stiff in a city where trampoline parks already exist, so it may be best to choose a location on the outskirts of the city. It can attract visitors just the same and at the same time guarantee enough parking area. A very popular trampoline park location is in the vicinity of large shopping centres; especially parents with young kids will certainly appreciate such a location.
Building an indoor trampoline park requires a lot of space. The best trampoline park locations are former industrial buildings and manufacturing plants which are usually large enough to offer sufficient area for launching a trampoline park. Such revitalisation breathes new life into former industrial buildings and at the same time prevents further deterioration.
In addition to former industrial buildings, other abandoned buildings can also be revitalised. Somebody's wrong business decision could be your chance to launch a trampoline park with all the advantages an investor needs when launching one.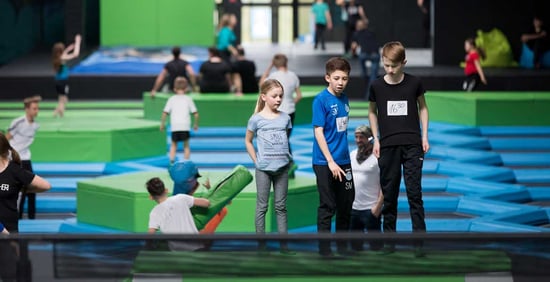 Revitalisation of existing buildings will save you time and money
The initial costs to build a trampoline park are usually high. The best trampoline park is one that will be profitable quickly. By revitalising existing buildings, these costs can be significantly lower. Former industrial buildings are usually large open spaces without walls that would need tearing down, which is why they are basically ready for a trampoline park launch.
Depending on your financial situation, you may decide to purchase or lease. Generally, these buildings are located in areas with low rent, which is another reason why they could be an ideal trampoline park location.
When investors decide to launch a trampoline park in existing buildings, they save a lot of time. Building large structures can take time, and permits and other necessary papers must also be obtained.
Good trampoline park location is the key to a successful launch
Trampoline parks have been excellent business opportunities for a while now. However, such a project must be approached carefully.

For a successful launch, a trampoline park location is key and can strongly influence initial costs as well as good business performance. By choosing former industrial buildings, investors can avoid certain issues they might face when choosing appropriate locations, and save time and money.
Trampoline park can be a lucrative business idea. But on the other hand, a start of a new business can always be a challenge. Especially in the trampoline park business, which is very complex. What are the next steps?
Read the comprehensive guide on How to start a Trampoline park business.
---
Download this eBook in which you will find answers to all the questions in your journey from the idea to the opening and further operating of the trampoline park. >>