Trampoline park business is still a relatively new niche of the entertainment industry, but one that has responded to many trends. Many entertainment industry facts point toward further growth of the global trampoline park business market, so now is the time to invest in the trampoline park business. But is it the right choice for you?
Running a trampoline park is demanding, but very dynamic job
Many people would consider having a business that provides entertainment for children, teens, families and other users as the best job in the world. But it is important to know that running a trampoline park can be very demanding, so your first step should be figuring out if the trampoline park business is right for you.
This is not just a business full of laughter and fun, it's also a business of coordinating, organising, planning, communicating with customers and business partners, and much more. It's all worth it if you know your efforts will be rewarded; not only in terms of profit, but customer satisfaction as well.
This is one of the main benefits of investing in entertainment industry, and certainly one worth enjoying. Keep in mind that in the trampoline park business, you will also need good organisation skills and skills in balancing professional and private life.
The main benefits of investment in trampoline parks
What better than having a job where you see people filled with smiles and laughter, joy and happiness? It's crucial not to regard your customers only as a profitable entertainment industry opportunity, but as your family.
The trampoline park business is most often seen as a business that brings together and engages the whole family, and a business that can grow nicely if you are the type of person who understands entertainment industry facts and specifics.
If you don't see yourself as an office type, running a trampoline park is perfect for you. The work is dynamic, so you don't need to worry about sitting in an office chair all day. The chance of you suffering chronic conditions that many office managers face are much lower since an active lifestyle is one characteristic that the managers of the most successful trampoline parks in the world have in common.
What skills and personal traits are helpful in the trampoline park business?
The question not only requires you to check your bank account for investing in the entertainment industry but also to make sure you are the right person for the trampoline park business. If you love people, adventures, and fun, then you are the right person to run an indoor trampoline park.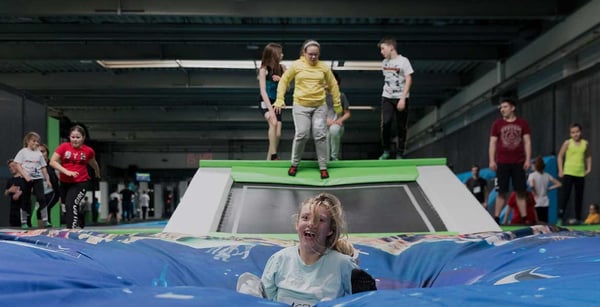 You're the right person to run a trampoline park if you:
understand what sports and active lifestyles are;
understand safe activities and will put customer safety first;
are willing to take care of spare parts and equipment maintenance at all times;
understand that trampoline parks are an excellent entertainment industry opportunity, but your loyal customers, especially young families, always come first;

are willing to take care of the crowds as w

ell as their never-ending parties from the first to the last opening hour;
understand that play is part of an adult's life as well;
will dedicate time to organise work;
have good communication and customer service skills.

If you love working wit
h people, maintain an active lifestyle and love adventures and fun
In this case you are the right person to run an indoor trampoline park. This won't only be a great business opportunity in the entertainment industry for you, but also a fulfilling and satisfying job.
If you believe you have the right traits and ambitions, don't hesitate to take advantage of the benefits of investment in indoor trampoline parks. This is an excellent opportunity to start a new career.
Trampoline park can be a lucrative business idea. But on the other hand, a start of a new business can always be a challenge. Especially in the trampoline park business, which is very complex. What are the next steps?
Read the comprehensive guide on How to start a Trampoline park business.
---
Download this eBook in which you will find answers to all the questions in your journey from the idea to the opening and further operating of the trampoline park. >>>